Silvia clearly had a talent for art and design.  At school she  excelled at art  (See: TimeLine, 1911) and remembers her Grandmother (most likely Adelaide) being good at painting with watercolours.  According to her journal, when she was 15, she tried to teach herself to draw by reading Ruskin's Elements of Drawing.  However, he goes on preaching so much about Nature that Silvia was under the impression that Nature was a task-mistress…and it was (only) many years later that I found one could be in love with her. 
She attended the Slade School of Art, probably, from September 1916 to 1919.  Once back from active service, the formidable Professor Tonks was one of her tutors.   At her first lesson with him, he impressed upon her the need for proportion and direction of lines.  But she also came to recognise that you need to know 'the thing' that you are drawing as well as how to draw.
Silvia would have been older than the majority of students and most of her friends and contacts were also older, several having been at the Slade – the likes of Gilbert Spencer, Dora Carrington, Paul Nash – whilst she was busy studying drama.  Evidently, she earned some money to pay her way by teaching elocution, one day a week, at a finishing school in Esher.
For fifteen years, she drew animals and birds at London Zoo almost every day (probably, after leaving art school).  Her endeavours resulted in the publication of a book and newspaper articles (see: Author page).  She compares the patience required to drawing wildlife as being like fishing for you can work all day long and never find an animal that will pose properly for you and then  you go home with a portfolio that is blank, except possibly for an ear, an eye and a waving tail.     If she needed flowery backgrounds for her drawings of birds or monkeys, she would go to Kew Gardens and sketch camellias or orchids.
My mother wrote that she (and her younger brother) "loved Aunt Silvia as she was so different.   She was an artist and had a studio and asked us to do lovely things like helping her clear her paints or go with her to the zoo where she drew all the animals.  We used to go with her behind the cages with the keepers and were often allowed to touch or hold animals."
Most of Silvia's paintings were of animals, birds and flowers but on her travels she concentrated on portraits. She does not seem to have had much interest in painting buildings or religious subjects. Nor are there examples of work that might have been influenced by the innovative movements between the wars, such as dadism, surrealism or abstract art.
Only a few of Silvia's paintings remain in the family. We know that some were put up for auction in the Eighties. Occasionally, through a sale, her artworks appear online but unfortunately, the original paintings which feature in her two books seem to be lost.
| | |
| --- | --- |
| 1929 | National English Art Club |
| 1930 | Royal Society of British Artists |
| 1930 | National English Art Club |
| 1930 | Zwemmer Gallery (December) |
| 1931-1933 | Warren Gallery |
| 1933 | Hardy's Galleries, Leeds (15th-27th May) |
| | |
[1928 Drawing of Young Reed Buck; Donated to British Museum by Clough Williams-Ellis]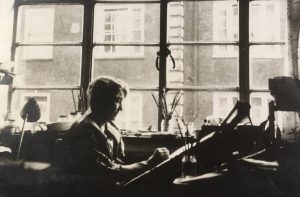 Society of Women Artists Annual Exhibition at Royal Institute Galleries
| | | |
| --- | --- | --- |
| 1950 | Watercolours | incl Balinese Dancer (The Stage 15.06.50 p11) |
| 1959 | Watercolour | Beggar Woman, Spain |
| 1959 | Tempura | Old Woman, India |
| 1961 | Pencil | Child's Head, Tenerife |
| 1961 | Pastel | Sabeh, Bali |
| 1961 | Tempura | Sabeh, Bali |
| 1962 | Pastel | Head of a Child |
| 1962 | Pencil | Genet |
| 1962 | Watercolour | Lacemaker |
| 1963 | pencil | Hornbill |
| 1963 | Tempura | Child's Head, Tenerife |
| 1963 | ? | Head of a Woman, Spain |