I am terribly distressed because I have heard this morning that my brother is ill
and not likely to recover.  I have always been very fond of him. 
(Letter sent from Barbados by Silvia, April 1948)
Like Silvia, Arthur was born in Malta – he was 20 months younger than his sister. I imagine they would have been close in their early years (see Timeline: 1894-1906) but, later, their lives took completely different paths and they lived in quite different places. Nonetheless, her brother was a constant thread in the background, until his death when he was only 53. 
Thanks to the archives at Wellington College, we know that Arthur went to the College prep school, run by Mr Pocock, in September 1906. He was admitted as a 'Foundationer' which meant his fees were reduced because he was the son of a deceased Army officer. Arthur moved into the main College in January 1908 and was placed in Mr Awdry's House for two terms. This was a 'holding house for boys awaiting a place in one of the main dormitories'. He then moved to Hill dormitory in September 1908.
Arthur was a member of the choir and also the Rifle Corps but at the end of 1908, for an unknown reason, he left the College. It could have been on account of ill health or perhaps he was unhappy in the main dormitory. His departure does not seem to have been a result of expulsion because he kept in touch with the Old Wellingtonian Society which he first joined in 1912. His name is also included on a digital record of all OWs that were serving in the armed forces between August & December 1914:
Autumn 1914: Fausset-Baker, A. A., Hill 1908, 2nd Lt. Indian Army
His education from 1909-1912 is a mystery but he may have gone to school in Dublin. He was fond of his Aunt Anna & Uncle Arthur (Baker) who lived in Merrion Square and we know he stayed there for a while rather than at home. There were seven cousins for company;  tragically, however, three of their siblings had  died from diphtheria in 1893.  
In due course, Arthur  passed into the Royal Military College at Sandhurst, 1912/13 (C-company). We do not know when he changed his name to Peter but it may have been as he joined the armed forces or during WW1; henceforth, I will refer to him as Peter.  
My mother told us that her father was first assigned to the Liverpool Regiment (ULIA?); if so, he could only have been with them from the beginning of 1914 up until August when he joined the Indian Army. She also implied that the top Sandhurst graduates were encouraged to join the Indian Army. The advantage in doing so was that they received better pay. Peter chose to go down this route in order to be able to send more money to his widowed Mother who had minimal income of her own.
The Quarterly Indian Army List (1920) states that the date of his first commission was on 8th August 1914 and his appointment to the Indian Army was on 13th October 1914. He joined the 21st Punjabis (an infantry regiment) which fought in Mesopotamia (Iran-Iraq) during WW1. We know that Arthur fought in the vicinity of Iraq and was 'mentioned in dispatches'. Also the Wellington archives record that: in 1917 he was one of 47 Old Wellingtonians serving in the Middle East who attended a reunion dinner in Baghdad on 18 June. In 1924 he was due to attend a similar dinner in Mhow, India, but it was recorded that 'Burridge and Faussett-Baker, who were on tour, unfortunately missed their train connection and could not get back in time.'
After WW1, Peter was transferred to the Military Farms Department. Photos in 1919 show him to be, variously, in Switzerland, Poona, Karachi and Mhow. A division of the Indian Army was based in Mhow (central India). It was named after a nearby village and the letters became a 'backronym' for Military Headquarters of War! In 1920 & 21, the photos indicate he lived in Karachi.
Peter met his future wife – Flora Jane Evans (1896-1981) in India. She had been a young nurse both in England and France during WW1. As a result of so many men losing their lives, there was a surplus of single women and large numbers of them set sail for India where, conveniently, there was a surplus of eligible young men. This 'migration' was nicknamed the Fishing Fleet. The husband of one of Jane's sisters worked for the Indian Railways. They lived in Lahore and I imagine, on arrival, she went to stay with them.
Jane was the second of five children – four girls and a boy. She was born into Hertfordshire 'gentry', and had some interesting forebears.* Her mother was Eva Bradford and her father, Lewis Evans, ran the family paper business (John Dickinson & Co). He collected astrolabes and was instrumental in the foundation of the History of Science Museum in Oxford.
Peter and Jane married in Karachi on 11th October 1921. The best man was F A Levis (Leinster Regiment) and the service was conducted by the Chaplain of Karachi, Revd E D Rennison.
Later, they had two children: a daughter – Jane Anne Amys Fausset Baker, born in 1924 in Teignmouth, Devon, UK (when on leave) and a Son – Hugo Amys Fausset Baker, born in 1926 in Mhow, India.**
* Time and Chance: The Story of Arthur Evans and his Forebears by Joan Evans  – Longmans, Green & Co (1943)
The Endless Web: The Story of John Dickinson & Co Ltd by Joan Evans – Jonathan Cape (1955)
Lane of Bentley Hall by Henry Murray Lane – Elliot Stock (1910)
** Mhow = acronym for Military Headquarters of War

Indian Army, 1922 – c1940
After re-organisation in 1922, several Punjabi regiments, were absorbed into the 14th Punjab regiment, including the 21st which became a training battalion. In 1923 Peter and Jane spent time in Quetta but were (probably) based in Mhow during 1924-1926. Then in 1926-27, Peter went to Reading University to study agriculture (for a year?) and, subsequently, helped to co-ordinate military (grass) farms in India. These were established to ensure there was a clean and continuous supply of cow's milk for troops located in various garrisons across India.
They were posted to Jubbulpore in central India around September 1927 through to 1928. There are photos of trips to Kashmir, Pachmahri, Tamia, Delhi and the Taj Mahal during this period. The following year, in 1929, they returned to the UK on leave and also took the opportunity to explore Europe by car with relatives.
Peter was appointed Assistant Controller of Grass Farms from 1930-32 in Peshawar. Around this time his regiment was involved in a military campaign to quell a couple of rebellions which took place between 23rd April 1930 and 22nd March 1931. The first was a tribal revolt (Afridi uprising) whilst the second (Red Shirt Rebellion) was more political in nature, inspired by the Indian Independence movement which was unfolding in the rest of British India. One of Peter's medals is for this campaign. Not surprisingly, it was considered too dangerous for wives and children to be in the area at this time.
Peter was promoted to Major in 1932 and also became the Deputy Assistant Director of the Military Farms (of which there were approximately 100 'units'). This meant a move to Quetta to work at the Staff College which had been established as an equivalent training college to Sandhurst. Jane joined her husband in Quetta but the children stayed with relatives in the UK and went to boarding school. During this period, Peter's address in England was c/o the Naval and Military Club, London (known informally as the In & Out Club).
In May 1935, there was a disastrous earthquake in Quetta which proved to be one of the deadliest earthquakes of all time in South Asia. Jane's letter to a sister described the event and, being one of the first eye witness accounts to reach the UK, it was published in The Times (15th June). Sometime after the earthquake, Peter became ill and returned to England on sick leave. He may have retired but, with the onset of WW2, he was recalled to India. His health, however, suffered and he returned to the UK – ironically, at the same time as his daughter was evacuated to India to stay with her relatives in Lahore.
Peter was a keen photographer, specialising in pets, particularly dogs, and his work was published in various magazines. He was a popular President of Haywards Heath British Legion and an Adjutant of the Southdown Home Guard, later becoming a member of the East Sussex War Agricultural Executive Committee. Evidently, he was known for his lively sense of humour and for being 'as good as any professional comedy turn'!
Sadly, on 10th April 1948, he died of cancer, just nine months after I was born which was bitter-sweet as I was his first grandchild. The funeral took place at St Winifred's Church in Haywards Heath on 14th April, followed by a cremation in Brighton. Probate was granted on 21st July 1948.
Following his death, his military career was summarised in the 1948 Wellington College Register as follows: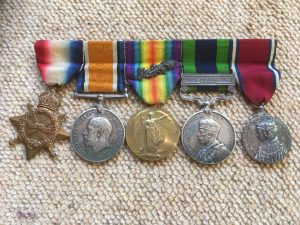 Note: Peter's surname – it is possible that, in keeping with other Officers, his surname was hyphenated when he went to Sandhurst. His Aunt, however, implies in a letter (1934) that his mother made a mistake in allowing the hyphen to be used without applying for legal authority.