Even though her conscience thought better of it, Silvia decided to go to Tahiti because, in London, she never had enough time (?to paint). She would have been 53/54 and had recently had an operation, so it seems a somewhat foolhardy escapade; however, she felt sure that travel as a drug for loneliness (was) more respectable than drink. She devotes half her second book (JY) to descriptions of her time on the island.
At a farewell party given by a friend in London, she was asked for her address which she gave as c/o Banque de l'Indo-Chine, Papeete, Tahiti, Océanie – it's the address of a mermaid, came the reply!  Initially, Silvia stayed in a once fashionable hotel in Papeete but, subsequently, moved to a less exotic one in Punavia which overlooked the island of Mourea. She talks fondly of sleeping within the sound of the waves and of the sun-lit seas to which she felt drawn – no doubt influenced by her early years living in Malta.
There are many poetic descriptions of exotic flowers, trees and their scents hanging in the air. In the hotel's wild garden, she discovered a fairly painless way of perambulating for the sake of exercise. You arm yourself with scissors, and make a gorgeous bouquet as you wander, and you permit yourself to think how expensive such flowers would be in Bond Street.
Besides being an 'earthly paradise' she likened Tahiti to a kind of convent where she could relax and escape appointments, situations, anxieties, panics. By this time, Silvia was living in a straw bungalow with few possessions and plenty of time to draw. Letters from Europe didn't disturb her either as they only arrived every three months by sea – hard to imagine in today's age of instant news. Instead, she enjoyed the adventure of taking a bus for 10 miles to visit Papeete which she later described as that fantastic, lovable place. On one occasion, she was by the quay when the Kon Tiki raft was towed into the harbour (August 1947), having traversed the Pacific Ocean from South America to the French Polynesian Islands.
In order to attract models, Silvia adopted a somewhat unconventional method of 'fishing'. She would stand on her verandah which overlooked the beach, holding a ten franc note in one hand and a stick of chocolate in the other. This attracted some lovely half-wild children on their way to school. Later they would appear uninvited, dressed in rags, and sit on her floor gossiping in French. She would give them coloured chalks with paper for drawing and, whilst they tried out their artistic skills, she would sketch them. On one occasion, the local school mistress turned up complaining that only two pupils came to her class – the remainder were on the verandah waiting to be drawn. To dispel this awkward moment, Silvia hastily suggested she would love to draw a portrait of the teacher; the latter readily accepted the offer and all anger abated!
She made friends with all sorts of unusual people on her travels and in the hotels where she stayed. A couple of chapters are taken up with tales of such friends and these reflect the fact that she loved stories, characters, wit and a good choice of words. Some were fellow artists like Wolfgang Wolf, a German who lived in Tahiti for 13 years as a decorative satirical artist. He was interned during the war and worked at a pearl-shell cutting factory. Matisse stayed in Papeete for a few months in the 1930's and was influenced by the decorated handmade bark cloth (tapa). Gauguin famously spent many years in Tahiti painting 'sculptural' Tahitians; Silvia replicates his style for the cover of her second book (JY).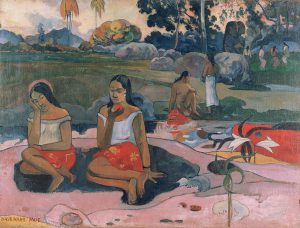 April 2022 – Nave Nave Moe (maori) by Gaugin. Known as Sacred Spring, Sweet Dreams. Painted in Paris following Gaugin's time in Tahiti. Purchased by the Morozov Brothers. Now in the Hermitage Museum. Shown at the LV Fondation in Paris (Spring 2022) when I was lucky enough to see it. Silvia would have appreciated the painting had she known of it.
Other friends invited her to stay on the island of Mourea. She was reluctant to visit because of the choppy four hour crossing that was involved but, once an invitation came her way, she accepted on the basis that it was wrong to avoid experience. She was met by her hosts on a little jetty near their enchanting pink house, with contents perfectly reflecting the wild surroundings – bamboo, clam shells, abalone shells, bleached coral, waxy fruit, exotic flowers, wood carvings.
We think of weather on a South Pacific island as being idyllic, but it was also prone to cyclones and tidal waves. Silvia found one such cyclone unnerving when two large verandah shutters blew into her room creating an awful blast at the same time as two trees crashed down outside. It was caused by a whirlwind on the reef and affected villages along the coast as well as Papeete. On another occasion the supports for her bungalow were washed away by a high tide. She moved her possessions on to tables and her bed into the garden. Shortly afterwards a a tremendous wave came surging through the bedroom and the steps of the verandah sailed out to sea!
She describes the air and water being so clear sometimes that, from her verandah, she could see striped fish in the shallow water along with all their darlings and splashes and deaths and dramas. She talks about the poisonous fish & shellfish, the methods of fishing, and of being marooned on a rock for hours. The wonders of beach combing kept her busy… She was entranced by the lovely shells and their delicious curves and describes their 'pâte' as resembling that of Copenhagen porcelain, while the ridges round the edge of the shell outside are like whipped cream. Then there were all the festivals, fetes and ceremonies to experience – not forgetting the intrigues of fortune tellers, seances, witch doctors and dodgy dealers.
The time came for her departure which the children thought was terrible: nous avons pitié de toi and they all went by bus to Papeete to wave Silvia off. The ship, however, was delayed and she spent the night on board, enjoying some kind of gentle (or maybe wild) party. Finally, there was a huge send off – all Papeete seemed to be there wearing leis made of flowers and shells. People Silvia knew only slightly kissed me and put couronnes round my neck. She was on the same ship as before but with a different Captain. 
The total outward journey took 43 days and on the return journey it took 19 days to reach Panama.  Details of the long sea-voyage, both there and back, are on the Caribbean page.