– another mysterious figure in Silvia's life
Per Larsen seems to have been a close friend of Silvia's but we know little about him. We can, however, gain some insights from just a few random items: a bequest, two letters and a photo – plus a description that almost certainly relates to Per. Like Silvia, he was a painter and itinerant traveller.
It may be putting two and two together and making five… but in April 1926 Silvia wrote a letter from Mentone to Muriel Hodgson in Japan. In it, she describes meeting up with a young Danish painter but doesn't reveal his name:
I have been 8 days in Mentone & return tomorrow I think – If I can bear to leave a delightful new friend – a Danish Painter. We were both drawing on the same mountain, above Gorbio – he talked to me, & drove me home, & we picnicked all next day on a precipice, above St Agnes, & were rather blissful.
He ran away from his home in Copenhagen when he was 15 because his father wouldn't let him be a painter, & he made a tent & took his gun & lived for 10 years a wandering life with his tent, exploring Norway, Sweden, Denmark & part of Russia & Finland – on skis – shooting when he wanted food – eating mushrooms, moss & roots. Then a great Danish painter saw his work, & trained him for 2 years & now he lives in London & Paris.
He is a beautiful creature, babyish almost, & very wise – climbing mountains with appalling rapidity (me trotting, panting in his wake) – but luckily he stops to look at every flower & lizard, so I can catch up. He has been chased by wolves, but they travel at about 30 miles an hour, & a man on skis, when the snow is good, can do 50. He has met a mother bear with 2 cubs, eating berries. She smacked the cubs & sent them up a tree & then faced him, but saw that he was harmless, so when he turned away, she called the cubs down & then licked them all over.
It is interesting to reflect that this Danish painter ran away from home aged 15, being reminiscent of Ralph Hodgson who left home in his early teens to join a 'travelling troupe'….
We now  jump, nearly four decades, to find the next relevant item….
This is a professional looking photo which was taken of Silvia in her later years – probably for her 70th birthday;  it is signed and dated by Per Larsen but there is no address or number on the reverse.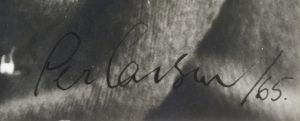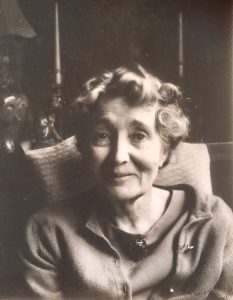 The first letter is from Afghanistan in April, and the second from Spain in August.   Note: some of the grammar reflects Per's Danish background.
1     April 1969, an aerogram from Kabul
Darling Silvia, Now I'm a-travelling again, and not anything like England or France or even my beloved Spain, but the Far East. Right now, I'm in Kabul, the centre of Afghanistan. Soon I plan to go through Pakistan and India, go up in the Himalayas to Nepal, neighbour to Kashmir. I'd like to stay there in the summer and then to the plains of India in winter, preferably Goa – which is said to have a lovely climate, big white beaches and waving palm trees and a wonderful sea where you go surf-riding on the waves and from there, perhaps by boat to Mombassa, Africa – but that's all in the future.
One grey Sunday afternoon in Denmark I suddenly got the idea of leaving and immediately started selling everything I had of value and one week later I set off, in order not to regret anything. I had to be fast. I'm travelling the hard way, 3rd class, and one scrappy meal a day and absolutely no throwing away of money for pleasure.
From Per Larsen – en route for Kathmandu, Nepal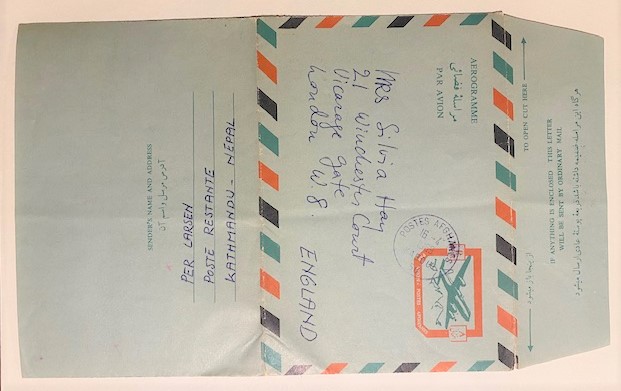 Postmark: Afghanistan
To: Mrs Silvia Hay
London, England
Per then briefly implies that the people of Afghanistan are friendlier than those in other places he has visited, before going on to reflect that Silvia's wartime travels are the inspiration for his current journey:
… I might even make a visit into Kashmir, to Srinager, like you did. You really are one of the reasons I'm doing this. 'Alone and Loitering' has for long been my favourite reading and it certainly has started something inside me. So you are to blame…
… Of course, I'm missing all my beautiful books on art. But I have to do without them for a while. The only picture I've got with me is the copy of the Crivelli Madonna* you gave me when we visited Albert-Victoria Museum. I take it up and look at it from time to time and it's giving me immense pleasure.
I hope everything's well and I'd love to hear from you.
All my love to you, Per
*Crivelli Madonna – see end of webpage
2     5th August 1969, from La Solana del Rio, Fuengirola, Malaga on headed paper
Dearest Silvia – Here I am at last safe and sound. I haven't written you for some time because immediately after I came to La Solana I got jaundice and had to stay in bed for some weeks which of course was a nuisance but still better than being ill somewhere 'off the beaten track'!
I'm very comfortable here and am beginning to look for a job – in the meantime I paint and draw more than ever. By now I've completely lost my heart to the painters of the Italian Renaissance and I'm learning a lot from them. Perhaps I shall have to go to Madrid and then I'll have the Prado to look at – won't that be wonderful!
How are you? I imagine you are busy in your studio – surrounded by thousands of drawings as usual. I really wish I were in London but my travels always seem to take me to other places. Oh well, one never knows – London may be just around the corner.
Sorry to send you such a letter – so short I mean, but something always seems to happen to prevent one sitting down and write. All my love Per.
Love from Edith and my parents.
Clearly, we learn from the date of this letter that Per must have cut short his travels and dreams of spending the winter in Goa!  Meanwhile, by the summer of 1969, Silvia had probably moved into a nursing home in Bath and may not have received these two letters.
The reference to his parents is interesting.  The fact that they were both still alive in 1969 indicates Per was probably several years younger than Silvia. Not forgetting Edith – was she a sister, companion, daughter…?  As ever, there are so many unknowns…
Silvia bequeathed £100 to Per in her Will, plus several of her paintings. It is unlikely she would have done this if he was not special in some way. All her pictures and drawings were left to the Executor, with a rider that Per Larsen should be allowed to choose any ten of those pictures which the Executor did not wish to keep. The rest were to be sold and the proceeds given to Oxfam.
Larsen's contact address is shown in the Will (dated 1968) as c/o Behrendesen, Gothersgade in Copenhagen. Gothersgade is close to the Rosenborg Castle in the centre of Copenhagen. Behrendesen is a Danish surname or it could be the name of a shop or workplace. Per is akin to the name Peter.
Following Silvia's death in October 1970, contact was evidently made with Per who replied to the Executor on 5th May 1971 from Casas de Campos 3, Malaga. He says that he wrote several letters to Silvia without receiving any reply 'but yet it was a shock to hear that she is dead. We will all miss her'. He adds that he will be in London later in the month and would like to know when it would be convenient to meet.
We can assume that such a meeting took place but, unfortunately, there is no record as to which paintings he selected nor what has since happened to them. We don't need to know – but it would complete a circle if we were to find out. Instead, we can join Per in imagining Silvia in her studio 'surrounded by thousands of drawings'.
Crivelli (1430/35 - 1494/5)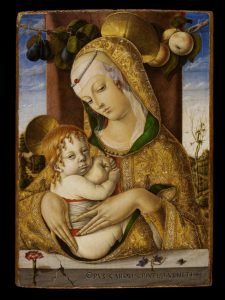 Of all the icons in the V&A museum, why did Silvia choose to give Per a copy of the one by Crivelli? Was it just a meaningful image linked to Silvia's conversion to Catholicism after Athole died? Or was there a family connection?
The renaissance painting was donated to the V&A as part of the Jones Collection in 1882 by John Jones (1800-1882). He is described by the museum as being in business as a tailor and army clothier in London 1825, and opened a branch in Dublin 1840. Often visited Ireland, travelled to Europe and particularly France. He retired in 1850, but retained an interest in his firm… Jones was the principal collector in Britain of French 18th century fine and decorative arts…
This begs the question as to whether Jones knew the Baker family through their respective tailoring businesses in Dublin? Silvia's great grandfather John, along with his brother, were farmers in Devon. In 1811, during the Napoleonic wars, they moved to Dublin where they opened a tailor's shop. In 1820 John is described as a wool merchant at 3 Parliament Street (near Trinity College). His brother, Richard, is described as a merchant and, according to an Aunt's letter 'he knew several well-known intelligentsia'. In the 1830's Richard served as Sheriff of Dublin and subsequently became an Alderman, as well as being knighted.
April 2022 – Since uploading information about the Crivelli painting, the first ever exhibition in the UK dedicated to Carlo Crivelli, opened at the Ikon Gallery in Birmingham. It set out to highlight his experimental use of perspective, trompe l'oeil and sculptural relief to create illusions of illusionism. The accompanying catalogue Shadows on the Sky (£25) is a comprehensive survey of Crivelli's work, including essays and a foreword by Ikon's Director Jonathan Watkins.