Athole was the third son of Athole Stanhope Hay (1861-1933) of Marlefield, Roxburghshire. His grandfather was the third son of Sir Robert Hay, 8th Bt of Haystoun, Peebleshire and Sarah Duncan of Providence, USA.
Athole's father, Athole Stanhope, was educated at Repton and served with the Argyll & Sutherland Highlanders. He married Caroline Margaret Cunard on 16th January, 1890 in St Jude's Church, Kensington. They had three sons: Robert (1890 – aka Robin), Bache (1892) and Athole.
Athole 'junior' was born on 17th October 1901 (?in Roxburghshire). Nothing is known about his early years and we only have scant details of his education and adult life.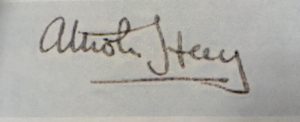 Like his (much) older brothers, Athole went to Summerfields and Eton, where he was in Mr R P L Booker's house. Evidently, he wished 'eventually to take a degree in history at Oxford' and wrote to the Dean of Christchurch suggesting 'he aim for a pass degree if I can' rather than honours.
In May 1919, on the advice of Mr Booker, Athole's father also wrote to the Dean, requesting his son's name be put down to enter the College in the Autumn of 1920. He goes on to declare that 'the boy' promises to make a fair way in the world for himself & I believe he has some ambition to do so. Christchurch, however, was not to be. Unfortunately, it seems that Athole had some kind of illness or depression and did not return to Eton for the Spring or Summer Term of 1920.
Instead, in the following October, Mr Booker wrote to the Provost of Worcester, commending Athole to his kindly attention… He belongs to exceptionally nice people and is an afterthought in a family of three boys…  Booker continues by saying that there is much to recommend him. He made an excellent captain of football in house, energetic, sympathetic and popular. But, as a rule, he cares more for what he calls literature than for games and is a voracious reader of books of various kinds… He is an interesting boy and thinks for himself. But he wants leading, I fancy, and with luck much might be made of him.
On his application form for Worcester College, Athole states that he would like to study English Literature. There is no evidence that he graduated with a degree but he probably completed his three years and left in the summer of 1923. After he 'came down', several letters were sent to him claiming £9.11.6d for being given 'credit for the whole of your Caution Money (£20)'! Eventually, in January 1924, his father paid up as my son is at the moment abroad and I have opened your letter to him.
Where he lived and worked between 1924 and 1932 is a bit of a mystery. On a 1928 electoral roll, the name of Athole Hay is shown as residing at 152 Holland Park Avenue, in the Ainsworth household. In the Post Office Directory of 1934 he is listed as being on the Board of Education at the Royal College of Art (RCA) and is described as an Art Collector in a book written by Richard Aldrich.* An obituary in The Scotsman states that his chief interest from childhood had been in art, particularly in helping beginners in the study of art (25.01.1938). The fact that he became the RCA Registrar in 1932 must mean he had experience of working in the art world.
* The Faraway War by Aldrich, R J (London: Doubleday, 2005) p28
Athole's family connections ensured that he attended some prestigious social occasions. He appears in the Tatler (13.08.1930) at the Agricultural Show in Kelso with Lady Massareene (née Stirling Ainsworth). In the Illustrated London News (16.03.1932) there is a photo of him sitting next to the Hon Margaret Hore-Ruthven at her pre-bridal reception. She married Peter Llewellyn Davies at the Savoy Chapel.
My mother talks of him being a curator at the Victoria & Albert Museum but there is no evidence for this. She also recollects that Athole was very amusing and loved children and often called at the flat with fantastic presents for Hugo (her brother) and myself. He always wanted to play with these himself and nearly always broke them but we didn't mind too much – though I do remember it was hard to say 'it doesn't matter' when he broke the cine camera/projector with Micky Mouse films that he had just given us!
All these scraps of information and family ties help to demonstrate that Athole was cultured and well-connected. Although a bit disorganised and not particularly academic, he seems to have been generous and popular amongst his family, friends and colleagues.
His surprising engagement to Silvia and their marriage in 1933 can be followed here…
Once married, they lived at 23 Edge Street, off Kensington Church Street, W8.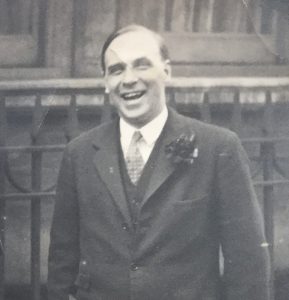 Once married, Athole & Silvia lived at 23 Edge Street, off Kensington Church Street, W8. There are not many letters written during this period, nor did Silvia keep a diary. There are, however, enough references to indicate that they were busy with work, with socialising and with travelling – both around the UK and further afield in France & Italy.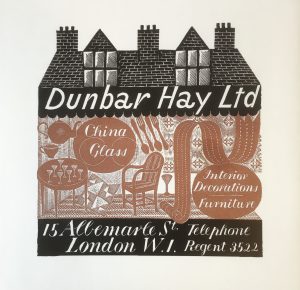 Besides his work at the RCA, the most significant activity for Athole at this time was the establishment of Dunbar Hay. This was an unconventional gallery-cum-shop where young artist-designers were encouraged to sell their wares to those with money to spend whilst industrial enterprises were encouraged to commission designs from these budding youngsters.
It seems to have been the brain child of Athole. William Rothenstein may have instigated the idea but it is possible that Walter Gropius (of Bauhaus fame) was behind the original concept. There is a reference to Gropius having dinner with the Hays at their flat and this might have been soon after he arrived in London in the autumn of 1934. Another influence, which Enid Marx associated with Dunbar Hay, was the vision and legacy of Paul Nash.*
Rothenstein suggested Athole invite Cecilia Dunbar Kilburn (later Lady Sempill) to manage the project. She was planning to go abroad to China but when Athole, who she had known for some years, asked her join him in setting up a shop she agreed to do so, in spite of the fact that she had no business experience.
The shop was named after their respective surnames and opened to the public early in 1936, initially in Grosvenor Street but, when the lease ran out, it moved to Albermarle Street. Eric Ravilious was invited to design a trade card (as above) which also acted as a change of address card. A group of share-holders provided financial backing for the project to the tune of nearly £3,000 and a board of four directors was set up. These included both Athole and Cecilia, along with Greville Worthington and Victor Cochrane-Baillie who was appointed Chairman. Victor's wife, Riette, was one of Athole's first cousins.
The shop contained 'eclectic but visually coherent displays' but, in spite of its success, it had to close in 1940 as a result of WW2; frustratingly, all its records were lost during the blitz. The full story of Dunbar Hay has recently been explored in a specialist book published by the Fleece Press** with wonderful illustrations. Little was known of the Hay connection until I chanced to make contact with the Editor. This was followed up by my being introduced to one of Athole's great nieces who, some months later, also made contact with the Editor! Between us, we have been able to piece together much of Athole's life story which, very sadly, was cut short in its prime.
* Ravilious & Co – The pattern of friendship by Andy Friend: Thames &  Hudson Ltd (2017), p222
** Dunbar Hay Ltd & the achievements of Cecilia Dunbar Kilburn by Simon Lawrence: The Fleece Press, Upper Denby (2016)
24th January 1938 - Untimely Death
Athole died, following an unfortunate accident, just a few months before his and Silvia's fifth wedding anniversary. The details of his death are still a bit hazy. It seems he attended a dinner held at the Victoria & Albert Museum. At that time, the Royal College of Art building adjoined that of the Museum. At some point, Athole lent back on his chair which collapsed and he hit his head on the edge of a statue (or a bit of statue fell on his head… ). He may well have been concussed, as well as injured, and ended up in hospital.
Two letters, encouraging him to get better quickly, survive. The first is from a friend called Gilbert (possibly Professor Ledward) with an illustration of William Rothenstein trying to hold up the college without his trusted Registrar:
Dear Athole,
Mr Legg informed me this morning with  that impressive countenance of his that "Mr Hay won't be coming to the College this morning because a statue had fallen on his head." Remembering Mr Angelo's David among others I naturally enquired which statue in an effort to arrive at a correct estimate of the damage you have received. But on this point he seemed quite vague. But it does seem from your geographical position (St George) that you have had a nasty accident & I am writing briefly to say how very sorry indeed I am & to express the very sincere hope that you will soon be fit again not only for the sake of the College which you serve so well… but also for your own self.
The second letter which came from Evelyn Dunbar was four pages long. There are sketches on each page, as shown on the first page below: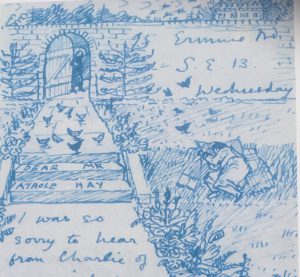 Evelyn writes from Brockley saying I was so sorry to hear from Charlie of your mishap, but glad to hear a day later from Percy Horton that you were getting on pretty well, and better still were the life & soul of the ward where you had been put! She ends with lots of good wishes and hopes that you will flourish apace. Tragically, that was not to be…
Barely a week after the accident Athole died at his home on 24th January 1938, aged only 36. The funeral was held at St Mary Abbots, Kensington Church Street, on Wednesday 26th January. This was only two months after Silvia's mother's funeral had taken place at the same Church. The funeral was well attended by family, friends and members of the staff & students of the RCA. Some of the artists included Barnett Freedman, Percy Horton, Cecilia Dunbar Kilburn, Thomas Lowinsky, Eric Ravilious, Albert Rutherston, William, Michael & John Rothenstein and Gilbert Spencer.
Athole's body was subsequently taken up to Scotland – probably accompanied by his two brothers as they attended both the funeral and the burial. The latter took place the following day, at Eckford Church, near their old home in Roxburghshire, in the presence of many Scottish relatives and friends.
Athole's death was devastating for Silvia and for Athole's family, as well as for his wide artistic circle of friends. Sentiments were summed up by Sir William Rothenstein when he wrote the following 'in memorium' which appeared in The Scotsman on 25th January and the Daily Telegraph on 27th January:
The many friends of Athole Hay will find it hard to realise that his vital, generous spirit is no more. Athole – he was always known by his Christian name – was one of the radiant personalities of the day. His spontaneous wit, his boisterous laugh, his quick sympathy with all that was gallant and adventurous in life, in literature and art, brought an infectious vitality into any circle he joined. His social gifts were notable; his high spirits, frank enjoyment of the good things of life, sturdy devotion to those whom he admired and enthusiasm for their gifts, gained him universal affection.
But beneath his brilliance was a quixotic quality which led him to devote himself steadily to an ideal – a practical one enough – that of helping, on the one hand, young people to find an outlet for their gifts and, on the other, of inciting wealthier people to use their means fruitfully to acquire seemly things, the products of their own time instead of supplying their needs from the antique shop.His appointment in 1932 as Registrar of the Royal College of Art gave him his opportunity. There was no student among three or four hundred of the College with whose capacity and character he did not acquaint himself. During these years under the Board of Education no one did more to throw a bridge between artist and industrialist and patron, to their mutual advantage, than Athole Hay. How many students he helped in other ways no one will know. It is tragic that so fruitful a life, and one that brought to so many bright hope and a wider outlook on the prospect before them, should be cut short in its prime.
In amongst the correspondence there is a condolence letter from Gilbert Spencer (Stanley Spencer's brother) in which he describes Athole as the most affectionate of men… He had that very remarkable quality of making the other person feel that he matters…. After relating a couple of stories, Spencer suggests that when someone was feeling destitute of all enthusiasm, Athole was able to create an atmosphere whereby there was 'something on' and before we knew it, one found one's self in a sort of whirlwind of exciting activity.
Later, Ralph Hodgson (poet) wrote to Silvia saying: The bad news came as a fearful shock to us both… I am deeply sorry and hardly know what to say. He was en route for America, having left Japan following the escalation of the second Sino-Japanese war. It sounds as though Hodgson hadn't heard what had happened to Athole until a mutual friend told him, whilst he was staying at the home of S S Koteliansky in St John's Wood. At the time, Silvia was away – probably in Italy.
According to a colleague, Athole's death certificate states that he died of toxaemia, toxic hepatitis, cellulitis of neck and quinsy. These details have been discussed with a Doctor who suggested that hepatitis (infected liver) would be the main cause. Whether his fall was caused by toxaemia or whether the fall caused the cellulitis and quinsy (both usually arise as a result of bacterial infection), is hard to say. Either way, medical treatment in the Thirties would have been limited compared to that of the present day.
Probate was granted on 5th March to Silvia, his widow, and to his brother Captain Bache Hay.
A Memorial Fund was set up in April to help RCA students. The Appeal was launched with the aim of raising £1,500 in order to be able to offer £50 a year to student/s in need.
(Details of Catalogue to follow…)
Athole's Cunard Relations
Athole's mother, Caroline was a grand-daughter of Samuel Cunard (1787-1865), a Nova Scotian ship-owner, who moved to England in 1838. He successfully ran the first British transatlantic steamship mail contract and in 1859 was created a baronet by Queen Victoria. The company was reorganised in 1879 to form the renowned Cunard Steamship Company Ltd. Samuel's eldest son, Edward, (1816-1869) succeeded his father as the second baronet. Edward lived in New York with his wife, Mary McEvers; they had three sons and four daughters.
Athole's mother was their youngest child, Caroline (1866-1943). Very sadly, her mother died a day after giving birth; and if that wasn't bad enough, Caroline's father died three years later. Her grandmother, Jane McEvers, came to the rescue and at some point they all sailed over to England. In the 1881 census, they were living (or staying) with her eldest brother, Bache Cunard (3rd Bt), in Leicestershire at Nevill Holt Hall. By then, Caroline was 14.
Bache, who was one of Athole's uncles, later married an American called Maud Burke in 1895. Bache was 21 years Maud's senior and preferred country pursuits to culture and music in the big cities. By 1911, their differences led to a divorce, following which Maud became better known as Lady Emerald Cunard. They had one daughter, Nancy (1896-1965) who was an artist, muse and infamous lover to various distinguished writers and artists in the first half of the 20thC. Nancy would have been Athole's first cousin. They may not have known each other very well but their paths must have crossed.
George Moore, novelist, fell in love with Maud before she was married; he continued to pine after her, up until his death, when he bequeathed his Irish estates to her. Unfortunately for him, Lady Cunard fell in love with the conductor, Sir Thomas Beecham, and for many years helped to finance Beecham's operatic ventures. She is described as one of 'six brilliant and extraordinary society hostesses between the wars', collectively named by Sian Evans as the Queen Bees.
Caroline's other two brothers were Edward and Gordon. Edward died in 1877aged only 22, whilst serving with the 10th Hussars. Gordon (4th Bt) married Edith Mary Howard and they had 3 sons – Edward, Anthony & Victor – none of whom married. Edward (5th Bt) was a diplomat and spent much of his time in the Caribbean, variously in Trinidad, Jamaica and Barbados. In the 1930's he built a mansion on the west coast of Barbados, overlooking Glitter Bay, where Silvia stayed on her travels. Anthony, a Naval Commander also had a house in Barbados; he was a member of the Ordre du Légion d'Honneur, Chevalier (probably following WW2). Victor was in the Coldstream Guards before becoming a Journalist; during WW2 he was an Intelligence Officer, presumably with MI6.
After Edward's death in 1962, the baronetcy passed to a distant unmarried cousin until his death in 1973. Subsequently, a younger brother of the cousin – also a bachelor – became the 6th Bt but, on his death in 1989, the title became extinct.      
Caroline's sisters (and Athole's Aunts) were Jeanette, Mary and Annie. In 1888, Jeanette married Edmund Ernest Leatham (1847-1890) of Wentbridge House in Yorkshire and they had three children. Six years after he died, she married Daniel Arthur  Nielson, also from Yorkshire.
They had two children but, unfortunately, he died in 1902 when the children were still very small. One of them was Harriette Margaret Neilson; she was known as Riette and became a close friend of Silvia.
Mary married Colonel George Gosling and they had one son. Annie married Arthur Lawley; their daughter, Ursula, married George Gibbs who became the 1st Baron Wraxall. They lived near Bristol at Tyntesfield, now owned by the National Trust.
Details are as accurate as possible but may be subject to alteration.
Click here to see a .pdf version