Emily was born on 2nd December, 1861 in Theydon Garnon (a village on the edge of Epping, also known as Coopersale). She was the youngest of four children – 3 daughters and a son. Her parents were John Dunham Amys (1826-1873) and Adelaide Frances Windus (1832-1912). The year before Emily was born, one of several Aunts (Ellen Mary Bull, née Amys) died, leaving two small children – Ada and Annie; it seems they were then brought up by John & Adelaide.
John was a solicitor in Epping at Windus & Amys based (by 1851) at Hill House, Epping. His forebears were Gentlemen farmers on the Norfolk/Suffolk border. Adelaide was the daughter of John Windus (1795-1848) – her husband's boss. Over several generations, her forebears were solicitors – as was her brother, John William Windus (1825-1898) with whom John D Amys went into partnership.
In 1871, when Emily was 10 years old, the family were living at Forest Lodge, The Plain, Epping. Besides her parents, the household included her two sisters, her two cousins and a Governess to school them, along with 3 servants. Sadly, two years later – when Emily was only 12, her father died on 8th September 1873. One can only imagine the distressing upheaval that this will have been for Adelaide and the family. –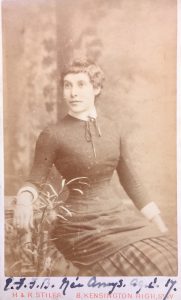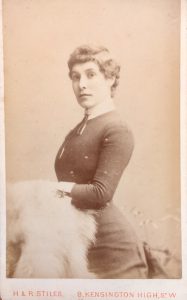 Left – Emily:  EFFB née Amys, aged 17
Right- Signed 'Emmie' on the reverse; no age given but could be 17 as well.
They are both Cartes de Visite taken by H & R Stiles of 8 Kensington High St 
In the 1881 census, Emily (aged 20) and her mother are recorded as Visitors at a property in Richmond, Surrey. The household consisted of a 20 year old Lieutenant, his 8 year old brother and a lady in her 40's, described as a widow and cook. Who, one wonders, was the lieutenant…
The 1891 census took place in April. There is no record of Emily, who is now 30 years old, and no clue as to what she had been doing during her twenties. Within six  months of the 1891 census, however, she marries Fausset Mahr Baker on Trafalgar Day in London. It is only at this point that her story opens up. Her husband was an Army Surgeon based in Malta – so maybe Emily was in Malta for the 1891 census? Details of the wedding were published in Freeman's Journal, in Dublin on 22nd October 1891, under 'Fashion & Varieties':
Wed 21 Oct 1891 Marriage at the Chapel Royal, Savoy London, with choral service, of Mr Fausset Mah(e)r Baker, Army Medical Staff, son of Mr J A Baker FRCSI of Clare Street, Dublin, and Miss Emily Frances Amys of Fairmile, Henley on Thames. The ceremony was conducted by the Rev C J Martyn MA Chaplain in Ordinary to the Queen (Victoria), Rector of Long Melford, Sudbury, Suffolk. The (half) brother of the bridegroom, Mr Roland Baker of 18 Kildare Street Dublin, acted as best man. After the Reception given by Mrs Amys at 36 Charges Street Mayfair, the couple left on their honeymoon for the Irish Lakes.
Savoy Chapel sits on the site of the Savoy Palace It was once owned by John of Gaunt but was destroyed in the Peasants' Revolt of 1381. As part of the Savoy Hospital estate, it has been Crown property for centuries. It remains under the aegis of the monarch as part of the Duchy of Lancaster and thus is a Royal Peculiar. In 2016, it was inaugurated as a Chapel Royal.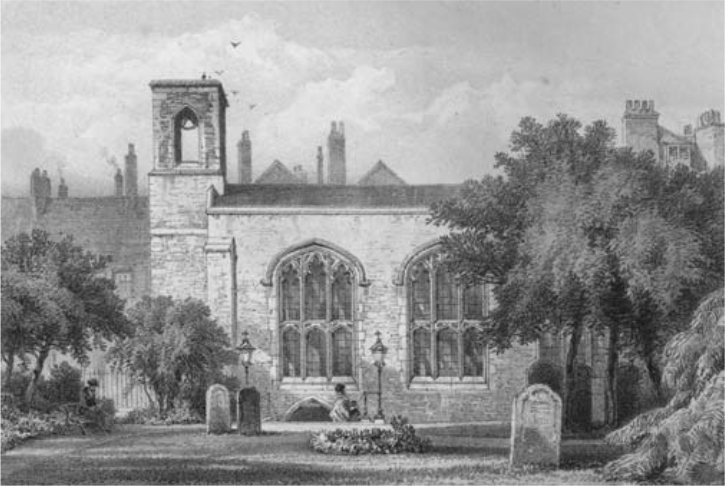 Notes:
– The officiant, Rev Charles Martyn, was married to Emily's Great Aunt (on her father's side Catherine Harrison).  He became Rector of Daglingworth, Gloucestershire in 1892.
– Emily's mother was 'Head of Household' in the 1891 census at Fairmile, Henley on Thames.
– Roland Baker should be Ronald Baker.
– Charges Street should be Clarges Street; it leads into Curzon Street.
– Freeman's Journal was the unofficial organ of the Irish parliamentary party at Westminster from the mid-1870s. At first, it opposed Parnell's rise within the party but changed sides in 1891. 
Following their honeymoon, the newly-weds will have sailed to Malta. At first, they lived in Cottonera and later in Mdina. See Fausset's webpage.
They had three children whilst in Malta:
Silvia Marguerita on 27th December 1892 (baptised 29.01.93)
Arthur Amys on 29th September 1894 (baptised 21.10.94) 
and  Aileen Freda on 15th April 1896 (baptised 21.05.96)
Besides the baptismal record, there are no further details about Aileen. The only other mention is on a rough family tree compiled by her brother;  he added Aileen's name, in pencil, with a question mark. He possibly made the addition in the 1930's when he was in correspondence with his Dublin based Aunt (Anna) about the family history. However, the question mark continues to hang over her existence.  Did she die as an infant – if so, was it in Malta or England or even at sea?  By this stage, Fausset's health had begun to deteriorate and they sailed back to the UK, eight months after Aileen's birth.
By the beginning of January 1897, the Bakers were back in England, probably based in Woolwich near the Royal Military Academy. In the 1901 census they were living at 224 Herbert Road. Woolwich. This was the same year in which Queen Victoria died and the long Victorian era came to an end. Fausset died the following year, on 10th March 1902, aged 49. He and Emily were only married for 11 years and the last five were hampered by her husband's declining health. Further details of Fausset's demise can be found on his webpage under Later Years .
According to the 1901 census, Emily's mother (Adelaide) was living with the family in Woolwich. Ten years later, however, the roles reversed as, in 1911, Emily was living with her mother in Burgess Hill, Sussex. One presumption is that they had moved to Sussex by 1907 because there is a photo of Silvia's son (in school uniform) dated: Burgess Hill, 1907.
During this period, there are two photos of Emily dressed in Edwardian style; initially, I thought she was dressed up for some amateur dramatics. One image is dated 1910, written in Emily's handwriting with her initials (EFFB). The other is taken by Speaight Ltd* who specialised in portraiture. In 1902, they moved to a 'palatial gallery' in New Bond Street. The sepia colour and double frame effect resemble photos which were taken around 1910. From 1912, their images are printed in black & white. 
* https://www.npg.org.uk/collections/search/person/mp68093/speaight-ltd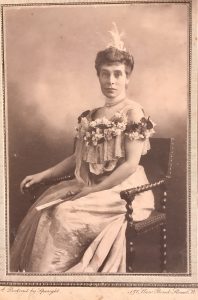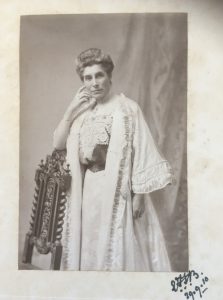 1910 was the year in which King Edward VII died and the Edwardian lifestyle came to a gradual end with the onset of WW1. George V's coronation took place in June 1911. This is the year in which Silvia took herself off to Drama School.
Admiral F W (Bill) Fisher
A special friend of Emily's over the years was Admiral Frederick (later Frederic) William Fisher (1851-1943). He was one of 9 children and a younger brother of the better-known Admiral 'Jack' Fisher. William enrolled into the Navy in May 1865, before his fourteenth birthday. After nearly 50 years, having worked his way up through the ranks, he became a full Admiral in 1913. He was appointed President of the Royal Naval College in Greenwich in 1911 and retired in 1914. He then lived for another 30 years and died on his brother's estate at Kilverstone Hall in Suffolk. I have found no record of his being married. The public trustee and a firm of solicitors were named as Executors on his probate details.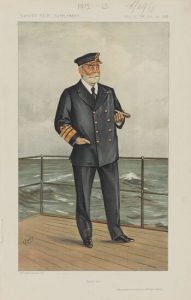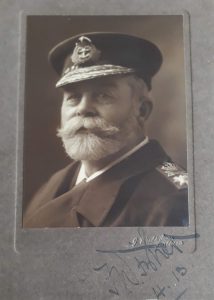 Silvia treats Fisher as an uncle and he is included in a chapter about members of the family in her book  Journey to Yesterday. He may well have met the Bakers in Malta as this was Headquarters of the Mediterranean Fleet.
According to Silvia, Fisher was known far and wide as Uncle Bill. She describes him as 'one of the most hospitable people one could imagine. Always there were wonderful parties, and good-looking Naval Officers to dance with'. She remembers that all the bedrooms in the Admiral's House at Greenwich were named after ships that he had commanded. She was in Orlando and on the dressing-table there was always a glass of rum and milk. But what she loved best was 'to sit at breakfast in the dining-room and watch the great liners a few yards away from us, sailing on the river'.
A letter recently came to light from a Baker cousin who described 'Emmy' as attractive but a 'fast woman'… with fashionable friends, including Admiral Jack Fisher and, in effect, that Fausset had picked a bad egg. But – said cousin – seems to have picked the wrong Admiral! She does, however, raise questions about the well-being of the marriage. Fausset sounds like a hard-working, 'upright' professional – maybe a bit reserved, whereas Emily seems to be rather more outgoing and impulsive.
In 1912, Emily's mother died at the age of 80. Following her death, a letter about the Old Wellingtonian Society, was sent to Peter at his home address in Cambridge Road, Carshalton, Surrey. This may be the address to which his mother had moved and where she lived during the war. By 1918, according to a note about a silver item, Emily appears to be living just a 20 minute walk away, in Cavendish Road, Sutton.
In the recently released 1921 census, she is back in Carshalton as a Visitor in Camden Road. Did this mean that she had moved, from Surrey to Mentone, or was she in the process of moving. Her occupation is given as 'Home Duties'. Evidently, the Census instructions for those 'mainly occupied in unpaid domestic duties at home' had to state that their occupation was 'Home Duties' (even though many had taken on men's work during the war). 1921 was also the year in which Emily's son, Peter, was married out in Karachi.
Mentone, France: Post WW1 -1936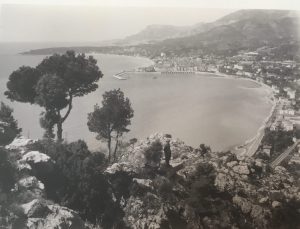 Mentone is known as the 'Pearl of France' on the French Riviera and is famous for its lemon groves. It is on the French side of the Italian border and, prior to 1860, was a protectorate of the Kingdom of Sardinia. In the past, it was a simple fishing village but, in the late 19thC – early 20thC, it became a popular spa for tuberculosis sufferers, notably Aubrey Beardsley & Katherine Mansfield. British & Russian 'incomers' began building a series of elegant villas, hotels and palaces – many of which are still standing.
With its mild Mediterranean climate, Mentone became a fashionable destination for the British to spend the winter months and a sizeable community of 'expats' developed, complete with an Anglican Church. By the 1920s, the summer months became equally popular all along the Riviera coast. We believe one of the reasons that, sometime after WW1, Emily chose to move here was because she had very little money and the cost of living was much cheaper than in England.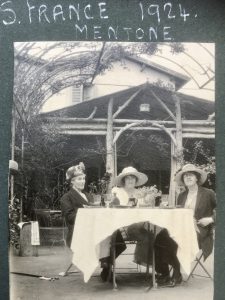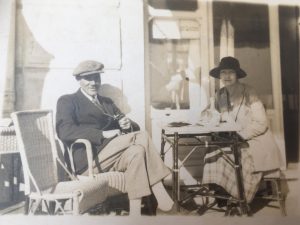 Not many details exist about Emily's life in Mentone – just a few photographs and letters. There are photos of Peter and his wife, Jane, who visited in 1924 when they must have been on leave from India. Silvia writes about Mentone in her letters to Muriel Hodgson (see Correspondence/Côte d'Azur). There are three letters from Emily to Silvia, one of them from Hôtel Colonies, but they are written in such tight italics that they are very difficult to read.
We learn from Silvia's marriage notices, in 1933, that her mother was living at the Hôtel Bedford et Calais in Mentone. Prior to this, on his retirement in 1931, Uncle Charles (Reeve) moved to Mentone. He lived at Hôtel Windsor and died in the English hospital in 1936.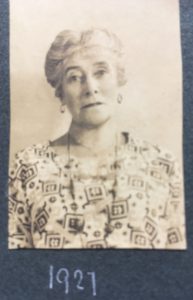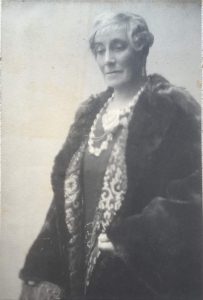 Emily returns to London, perhaps after Charles Reeve's death. She was 75 by then and her health was failing. She dies the following year on 23rd November in the Royal Northern Hospital, Islington, aged 76.   Silvia writes to the Hodgsons to let them know of her mother's death and is clearly upset and unaware that, within two months, she would lose her husband as well.
Her funeral was at St Mary Abbots Church, Kensington High Street. Probate was granted on 23rd March – two months after Athole dies. Emily's effects amounted to £3,760 and Messrs Holt & co were appointed as Trustees c/o Messrs Glyn Mills & Co, Whitehall. Holt & Co were the banking agency originally used by the Army and, during WW1, they acquired both the Naval and RAF agents. The business was subsequently acquired by Glyn Mills & Co in 1923.
There are references to Emily being called Emmie/Emmy but my mother called her Mappy. She remembered that she was often to be seen wearing a leopard wrap around her shoulders and was great fun. As Mappy was in France and my mother was in India when she was small, they can't have met very often! Mother would have been 13 years old when Mappy died.
Mary Caroline Amys, known as Carrie (1856-1943). She married Sidney Arthur Hayman (1856-1900) in March 1880. Her two sisters were bridesmaids. He was a Surgeon and they lived at The Limes in Abingdon. They had two daughters – Mildred and Muriel.
Jane Fredrika Amys (1860-1896) was known as Freda. The only information we have about her is that she died in Genoa. The newspaper account describes her as 'formerly living at Lynceley Grange in Epping', implying that she was now living in Genoa and was unattached. But what caused her death? Upsettingly, she died just two weeks before Emily's second daughter, Aileen, was born. This accounts for Aileen's second name being Freda. Genoa is only 100 miles from Mentone so, is the memory of her sister another reason why Emily was drawn to Mentone?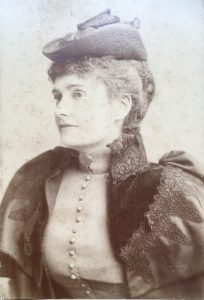 John Charles Amys (1858–1905)
For several generations, the first-born sons in the Amys family were called John.  John Charles was no exception but, according to his death certificate, he was known as Charles.  He was baptised on 24th August 1858 at Coopersale (Theydon Bois).  In 1861 he is living at the family home (aged 2) but his name is missing from both the 1871 & 1881 census records.  It surfaces again in the 1891 & 1901 censuses when – in today's parlance – it seems that Charles had 'special needs'.  This is because he is listed as an Inmate at the Earlswood Asylum. 
Originally called the 'Asylum for Idiots', it was founded in 1847 by Andrew Reed* (1787-1862) an independent minister and active philanthropist. Initially, 50 patients were admitted to a property in Highgate. By 1849, they had 145 patients and the accommodation became insufficient. This led to a 'model asylum' being built at a site in Earlswood, near Reigate. It was planned and designed by William B Moffat – an architect and partner of Sir George Gilbert Scott – with the novel idea of treating, rather than just housing, inmates. The move to the new premises, with a capacity for housing up to 500 people, took place in 1855.  This must be the building in which Charles lived his adult life.
However, on 9th July 1905, at the age of 47, he dies in Tendring, Essex. So, what was he doing there…? It transpires he was staying by the seaside, at Earlswood Home in Walton-on-the-Naze (in the registration district of Tendring). According to a website about the Lost Hospitals of London** Earlswood Asylum purchased this property in 1904, the year before Charles died. I imagine that 'inmates' were sent to Walton for a week's holiday – maybe on a rotating basis.
On his death certificate, the cause of Charles's death is given as 'Cardiac Dilatation and Imbecility'. He is described, as being 'of independent means' and his address is given as 25a Crowther Road, South Norwood. Could it be that, after Fausset died in 1902, his mother (Adelaide) and/or sister (Emily) moved from Woolwich to South Norwood? It seems that both Fausset and Charles had monies to pay for their care but it must have eaten into the family finances; maybe this accounts for Emily being unable to afford to live in London after WW1 and Silvia living on a shoestring…