William Rothenstein (WR) was an influential artist and ultimately the Principal of the Royal Academy of Arts (1920-35). He was knighted for his services to art in 1931. Plenty of material is available elsewhere to describe his full life.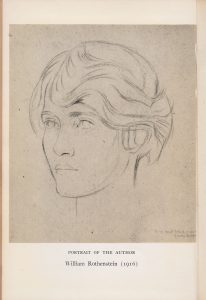 Rothenstein was very generous with his support for struggling artists and this may, or may not, have included Silvia in her early 20s. In the introduction to Alone And Loitering, written by Williams-Ellis, we learn that WR was 'an admiring and faithful friend of the Author'. Featured in the frontispiece of this book is the first of three images drawn by WR, of Silvia.  It was sketched in 1916 at Lincoln's Inn (possibly in a flat rented by WR's brother, Albert Rutherston, towards the end of WW1). Her short hair reflects a significant change in hairstyle for women that began in WW1.
WR's second image of Silvia, with even shorter hair, was found in a review – tucked into a copy of Portraits in the London Zoo. The book was published in November 1925 by Puttnam's. As part of their publicity, they used this 'illustration of a reproduction of William Rothenstein's crayon drawing of Miss Silvia Baker, the author of our publication…'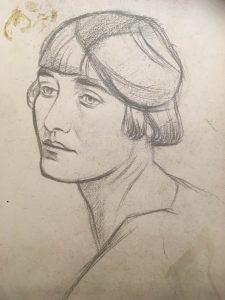 In a letter sent in June 1925 to Muriel Hodgson, Silvia writes that WR 'has offered to help me select the drawings for my (zoo) book.  I don't feel in the least that I want to submit them to him. I shall have to elude his kindness in some wily way.'   Subsequently, she adds: 'I've made great friends with William Rothenstein lately. I had always found him difficult before. His thought seems to run parallel to one's own (but) his answers are never direct answers…'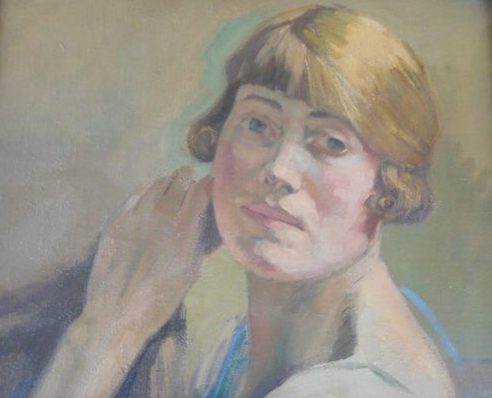 The third image is an undated oil painting which was probably painted when Silvia spent her days sketching at London Zoo. In one of WR's letters arranging 'sitting' times, he writes that he has 'a free morning if Helen of Troy is neither combing her golden hair or tending her lions or sheep, will she sit on my ivory throne?'
Whereas Silvia, in Journey to Yesterday, makes mention that, whilst WR was painting her portrait, she 'met and was fascinated by Lawrence of Arabia wearing his flowing white silk Arab dress'!
The whereabouts of the originals for the first two images are unknown, whilst the third is in a private collection.
As stated in the Friends' Introduction, the letters from WR begin in the mid-1920s and continue, spasmodically, until a couple of months before his death. Most provide a day or date but, frustratingly, not the year in which they were written and so a calculated guess comes into play. The majority of the correspondence is held in the Beinecke Library.
Details to follow…