Who was mysterious Uncle Charles?
On reading through some of Silvia's correspondence, the name of Uncle Charles features prominently. But who was he?! In spite of a plethora of potential Uncles, there was no obvious candidate on any of the family trees.
In due course, I found a Will for Silvia's father; it named two Executors, one was Fausset's half-brother, Ronald Hepburn Baker; the other was  Charles Arthur Reeve about whom we knew nothing. Subsequently, I turned to Ancestry and established that Charles was born on 12th December 1857, in Marylebone, the youngest of 7 children. As a result of this childbirth, sadly, his mother Eliza Anne Gledstanes died soon after.
His father, John William Reeve, was born in Wangford, Suffolk in 1808. John attended Trinity College, Cambridge and was ordained in 1834. He held two curacies in Suffolk, followed by being appointed as Vicar of Holy Trinity Ipswich (1842-47). He then moved to London and became the Incumbent of the Portman Chapel from 1847-1877. This was a chapel-at-ease to St Marylebone Parish Church (now being St Paul's, Portman Square). His residence was in Upper Harley Street. From 1873-75 he was Chaplain to the Queen and then Canon of Bristol Cathedral in 1878. He died in Bristol in 1882.
His son, Charles, was a 'scholar' at Suttons  Hospital Charterhouse in 1871 but, the following year, the school moved to its present site in Godalming. History doesn't relate whether, aged 14, Charles moved as well.
Following in his father's footsteps, Charles's alma mater was Trinity College, Cambridge. He read law and was called to the Bar in 1882. He may have known Ronald, his fellow executor – and barrister – whilst studying for the Bar. He worked variously in Mayfair, New York, and New Brunswick. According to Silvia, however, he was discouraged by earning not more than £90 a year for several years. Thus, he became a journalist instead and was employed by the Daily Telegraph. He was their City Editor for thirty years from 1901.
In Journey to Yesterday, Silvia writes about 'My Uncle Henry' and his father 'Canon R'. Having found details about Charles and his father, it is clear that (as she is prone to do) she is using the name Henry as a disguise. Charles features in a chapter about The Family as does 'Uncle Bill' but neither of them seem to be related to Silvia. They are more likely to have been close family friends who, when Silvia was small, were known as 'uncle'.
Charles married in 1902 when he was 45. The marriage took place at St George's Hanover Square, near to Hanover Street where he was living (Electoral Register, 1900). According to the marriage certificate, his wife was Clare Lilian Birch, aged 37, of 5d Bickenhall Mansions (Marylebone). Her father was described as Alfred Cullum, Gent (deceased). This begs the question as to whether her maiden name was Cullum or Birch and whether she had been widowed or maybe adopted? The 1911 census states that she was born in Bury St Edmunds but, so far, her name does not feature on any other civic record. Nor is she mentioned by Silvia. For the moment it means 'Aunt Clare' is even more of a mystery than 'Uncle Charles'!
By 1911, Charles and Clare were living, with three servants, at 10 Alfred Place, SW7. This address at least consolidated a link with Silvia because, when I checked a series of Artist Yearbooks (1927-1933), I discovered her address was also 10 Alfred Place! To be confusing, some references say they lived at Alfred Place West. This discrepancy probably arose because there was a road called Alfred Place (now Alexander Place), on the east side of Thurloe Square Gardens whereas, on the west side, it was called Alfred Place West; the latter led to South Kensington underground station (and in 1938 was, subsequently, re-named Thurloe Street).
On Christmas Eve 1915, however, Charles' wife died at home and everyone's life changed. The correspondence reveals that Silvia found her Uncle very difficult and bad tempered (of course, the reverse may have been true as well…). This continued until the mid-20's when something must have happened to change the situation as, in letters to Muriel Hodgson, she declares that Uncle Charles is 'adorable' and 'sweeter than ever'.
There is a note to suggest Charles was a bit of a gambler but no indication as to whether it was, for instance, in casinos or on the stock market; maybe he lost money in the crash of 1929? Either way, when Charles was 72, he retired from the Daily Telegraph and moved out to Menton where Silvia's mother was living. By all accounts, there were fond farewells and tears on his departure from London.
Charles lived at the Hotel Windsor-Trianon until 1936 when he died, aged 78, on 23rd April in the English Louise Hospital at Menton. With no children of his own (and Silvia now married) his effects (£298) were left to his solicitor, Lawrence Ashbridge.
As a barrister-cum- journalist, Charles had some good stories to tell and was quite opinionated but Silvia sounds indignant when she refers to his obituary as 'very mean and half-hearted'. It appears in the Daily Telegraph on 25th April 1936. There are a couple of short paragraphs in which he is described as being 'very greatly respected by the older generation in the City'. The only extra thing we learn is that yachting was 'his principal recreation in his later years'.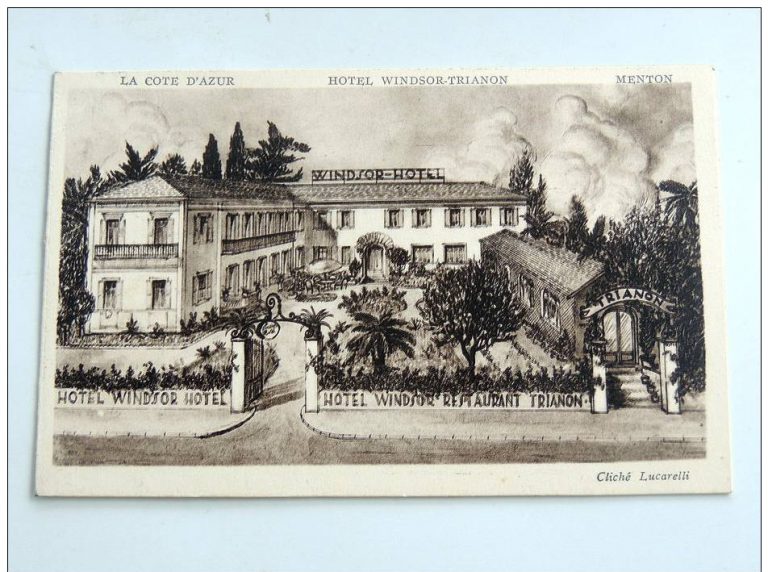 postcard – www.delcampe.net