Fausset was born in Clontarf, Dublin on 2nd November 1853. He was the second son of John Baker (a surgeon) and Caroline Paré (a huguenot descendant). Their first child, born on 22nd July 1852, was a son called Arthur. In December 1854 they had twins but only one twin – Caroline/Cissie – survived and, tragically, their mother died ten days later. It is hard to imagine how John would have coped with two toddlers and a new born babe, as well as losing his wife of only a few years. Relatives must have rallied round but it will have scarred the children's early years. John was to marry again, a few years later, and had another son called Ronald.
Fausset was brought up in a protestant environment at a time when Catholics were gaining ascendancy in Dublin. A godfather, after whom he was named – Canon Andrew Fausset – was a 'good scholar and an eloquent preacher' with strong protestant sympathies.
It is not known where Fausset went to school but he attended Trinity College Dublin. The only known fact about his time at university – thanks to a winning salva – was that he participated in cross-country running. He followed in the medical footsteps of his father and elder brother, achieving his BA in 1875 and an MB & MCh in 1878. We presume he spent the next 18 months gaining experience in his father's practice based at 4 Clare Street in Dublin.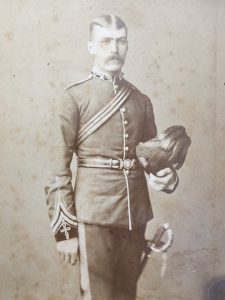 It would not have been possible to track down Fausset's military movements had I not discovered a website dedicated to the work of British Army Surgeons in Malta.   It was established by a retired Colonel who has been very generous in sharing his knowledge and helping me to piece together Fausset's military movements.
Training  
To become an Army Surgeon, Fausset had to pass two exams before he turned 28 years old.  The first was an entrance exam held in London, following which he would have been sent to the Army Medical School at the Royal Victoria Military Hospital Netley, near Southampton. Here he was taught the requirements of being an Officer, as well as military administration, before taking his second exam.   Fausset should have been accepted for the winter course in October 1879 but the four month session was cancelled in anticipation of a new Royal Warrant (issued, November 1879).   This meant he didn't go to Netley until January 1880 and, in order for surgeons to be ready to catch the next trooping ship, the course was squeezed into the space of two months.
However, according to Drew's List of Medical Officers, it was another year before Fausset went overseas.  In the meantime, he is most likely to have returned to Dublin to develop his skills in his father's practice.
Service  
Once Fausset entered Netley he would have been given the rank of Surgeon-on-Probation which was equivalent to that of a Lieutenant.  On passing out, this was upgraded to the relative rank of Captain.   At the time, the Medical Department was a Civil Department of the Army, and Doctors were referred to as Gentlemen – hence Fausset was appointed a Gentleman Surgeon on 6th March 1880. Subsequently, after 12 years service, on 6th March 1892 he was promoted to the relative rank of Surgeon-Major.
India,  1881-1886
I first found details of Fausset in the (April) 1881 census. He was listed as being on board HMS Serapis and I assumed this meant that he was a Surgeon for the Royal Navy. It transpired that he was travelling from Dublin to Madras on a trooping ship.  At the time, most Army Surgeons would have been posted to India at some stage in their military service.    The journey to India, however, could take up to three months and there were only four ships available to make the voyage.
It is possible that Fausset was encouraged to go to Madras by the then Resident Surgeon, Charles Sibthorpe who subsequently became a Surgeon-General. He was born and trained in Dublin and could well have known Fausset's father. The Madras Command had five hospitals under its wing, including Bangalore.
Ireland, 1886-1890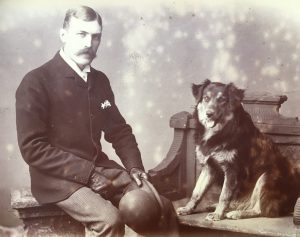 In 1886 Fausset returned from India to Dublin. Over the next few years he worked in and around Ireland, starting off with a month in Dublin. He subsequently 'changed stations' several times, moving first to the Curragh in Co Kildare, then back to Dublin in 1887, on to Loughrea Co Galway in 1888 and finally to Navan, Co Meath in 1890. The backdrop to this period was that his father had been widowed a second time in 1885. John's own health may have been failing as he died in Dublin, in May 1890, when he was approximately 70 years of age.
Malta, 1890-1896
Without immediate family ties, Fausset travelled overseas again and arrived in Malta in the middle of November, 1890. He was put on 'garrison duty' and based at Cottonera Hospital which had been built in 1873, close to Valletta's Grand Harbour.
On April 6th in 1891, Fausset was registered in Malta, as a member of the United Grand Lodge of England (from which he was to resign in June 1900).
At some point in 1895, he became the Officer in charge of a Station Hospital at Citta Vecchia. It is a small walled city, also known as Mdina, on a plateau in the centre of the island and was the Maltese capital 'from antiquity to the middle-ages'. A palace, built in 1725 for the Grand Master Vilhena, was converted into a sanatorium (1860) for British officers and soldiers. In the early 1890's it was used as an overflow barracks, until 1895 when it reverted for a few years to being a sanatorium specifically for soldiers' wives and children. The Baker family took up residence nearby at 24 Strada Bastione.
Fausset's Service Record can also be found on http://maltaramc.com/regsurg/b/bakerfm.html
We have no idea how Fausset met his future wife, Emily Amys, but a comment in one letter implies that they had not known each other for very long when they became engaged. As the wedding was in London, it must have taken place when Fausset was on leave. They were married at the Savoy Chapel Royal on Trafalgar Day – 21st October. Fausset's half-brother, Ronald, was best man. A reception was held in Mayfair, following which the couple travelled to the Irish Lakes for their honeymoon.
They went on to have three children – all in Malta:
Silvia (the subject of this website) in December 1892 (baptised 29.01.93)
Arthur (known as Peter) in September 1894 (baptised 21.10.94) and
Aileen (currently no details) in April 1896 (baptised 21.05.96)
The family returned to the UK on leave for nearly 3 months in September 1893 and then permanently at the beginning of January 1897.
They moved to the 'Thames District' and were based in the Woolwich area.   In the 1901 census the family were living at 224 Herbert Road, Woolwich, close to the (old) Royal Military Academy.  The household included Fausset, Emily and Emily's mother, Silvia and her brother, as well as a cook and a housemaid.   The civil parish was Plumstead and the ecclesiastical parish was All Saints.
Fausset may have continued his medical career working at the Academy.   His health, however, deteriorated as by Christmas 1899 he was reduced to half-pay on account of illness.  He is also recorded, in Kelly's 1899 Directory, as being a Private Resident living in Watts Avenue, Rochester.  There is evidence that this might have been an alms-house belonging to the Richard Watts Charities (further investigation needs to be made).
Six months later he was restored to full-pay but it only lasted until December 1900 when he retired, aged only 48.   It is frustrating not knowing what afflicted him – was it the result of contracting a fever in India or Malta?  Whatever the cause, he died all too soon on 10th March 1902 aged 49.   His death was described as 'Paralysis'- at the time, this signified some kind of mental or muscular/motor disorder, such as parkinson's disease.
Probate, for the amount of £1,467 8s. 3d, was granted on 8th April to his widow, along with his half-brother and Charles Reeve (this was the first clue, that 'Uncle Charles' was closely connected to the family).  Whilst probate gave Fausset's address as Herbert Road, it states that he died at St Ann's Heath, Virginia Water.   On investigation, it turns out that the latter was in fact the address for  Holloway Sanatorium.  This had been established in 1885 for 'the mentally sick of the (professional) middle classes'.  Along with the nearby Royal Holloway College, it was designed in 'high Victorian' style.
There are no details of a funeral but Fausset's ashes may have been taken to Dublin as his name is carved on to the stone tomb for his mother in the (Protestant & Huguenot) cemetery known as Mount Jerome (plot C32-1848).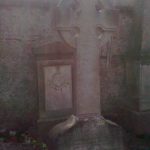 Arthur Wyndowe Willert Baker (1852-1924)
Born:  Morrison's Hotel, Dublin 22nd July, 1852
Music Scholarship to Trinity College, Dublin
BA (1873), MB (1875), MD (1887), Fellow of RCS, Ireland (1888);
Specialised in Dentistry;  nominated to the Odontological Society of Great Britain, 1891;
Master in Dental Science, 1904;  Dean of Dublin's Dental Hospital for 10 years
Took part in the defence of Trinity College Dublin during the Easter Rising, 1916;
 'mentioned in despatches'
In 1917 served at Boulogne General Hospital, treating fractured jaws
Wrote numerous publications and was an active lecturer
Also, a skilled sailor and 'cellist  
Arthur died on 5th July, 1924 at his residence – 59 Merrion Square, Dublin 
In Memoriam obituaries published by the Irish Times
Married:  Anna Margaret Constance Stubbs (1860-1950) in Clontarf, 1881
                Daughter of Revd John Stubbs & Catherine Cotter
Ten children but three – under the age of five – died from diphtheria, 1893
                Of their three sons, only one survived to adulthood and married, but no issue
Anna painted and exhibited her watercolours.  She died in 1950, a month before her 90th
                birthday, and is buried with her husband in Mount Jerome Cemetery Dublin 
               (plot C32-8897)
Caroline Baker (1854-1927)
Twins girls born: Dublin 12th December, 1854
Caroline's twin died after only 3 days and her mother died a week later on 22nd December
 We know little about Caroline (aka Cissie) except that she married her step-uncle, Jeremiah McCarthy*, on her birthday in 1895 at St Giles-in-the-Fields, Holborn.   He was born in 1836, thus 18 years her senior.  Jeremiah moved to Shoreditch in the 1860s and trained at the London Hospital Medical School gaining his MRCS, LSA, MB and FRCS (1873).
In 1901 & 1911 they were living at 1 Cambridge Place, Victoria Road, Kensington W8.
Jeremiah died in London on 26th April, 1824, the same year that his brother in law (AWWB) died.  Caroline died in Northern Ireland on 19th June 1927; they had no issue.
Ronald Hepburn Baker (1861-1926)
Ronald was a half-brother to Arthur, Fausset & Caroline.  His mother was Jane Macarthy*
He was possibly educated at Eton or Charterhouse, rather than in Dublin.  Subsequently, he went on to become a barrister (did he train with 'Uncle' Charles?)
In one of her school-day anecdotes, Silvia describes Ronald as a briefless barrister and a rather dashing personality.  On this occasion, he was given permission to take his niece out to lunch followed by a matinée performance of 'The Merry Widow'.   Silvia, however, had to tear herself away before the end of the performance, in order to attend her first confirmation class; this was taken by an 'aged and austere' Archdeacon who was not amused by her excuses for being late!
In 1891, Ronald was Fausset's best man.  By the time Ronald's marriage took place, however, Fausset's health had deteriorated and it was his wife, Emily, who acted as a witness for Ronald's marriage to Annie Sarah Forrest Malcolm (1861-1947). This took place on 3rd October 1900, at St Peter's Church, Belsize Park.  Eighteen months later, following his death, Ronald was one of the Executors of Fausset's Will. 
In 1901 the Bakers were residing in Twickenham and in 1903 they had a son– Ronald Patrick Malcolm Baker.   By 1911 they had moved to 11 Grassington Road, Eastbourne.  Two of the Baker cousins also lived in East Sussex and Silvia's brother later retired to Haywards Heath.
Ronald died in Eastbourne on 27th August 1926.
*Spellings vary for MacCarthy & McCarthy